Dawn M. Foster
Geek, Community Manager, Blogger and Technology Enthusiast.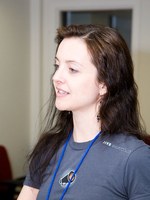 Dawn has more than 17 years of experience in business and technology with expertise in strategic planning, management, community building, community management, open source software, market research, social media, and RSS. She is passionate about bringing people together through a combination of online communities and real-world events. She has experience building new communities, and managing existing communities with a particular emphasis on developer and open source communities. Most recently, Dawn was leading the Community Office within Intel's Open Source Technology Center. In addition to working at Intel, Dawn was an online community consultant, and she has worked at Jive Software, Compiere, and a Midwestern manufacturing company in positions ranging from Unix system administrator to market researcher to community manager to open source strategist.
While at Jive Software, she was responsible for building a developer community for Jive's new Clearspace product line and managing the existing Ignite Realtime open source community. She was a co-founder and board member of Legion of Tech, a non-profit chartered with organizing free events for the Portland, Oregon technology community. As part of her work with Legion of Tech, Dawn was an organizer for Portland BarCamp, Ignite Portland and other events. She was also a co-founder and community evangelist for the location-based startup, Shizzow. Dawn holds an MBA from Ashland University and a bachelor's degree in computer science from Kent State University. Dawn blogs about online communities as the author of the Fast Wonder Blog, and she blogged for GigaOM's WebWorkerDaily for a few years. She is the author of the books, What Dawn Eats: Vegan Food That Isn't Weird and Companies and Communities: Participating without being sleazy.