Accommodation
Overview of possible accomodations
There are plenty of lodgings available in Bern. There are really nice hotels or hostels – check the list below for more details. If you come as a group, you can also rent apartments or even use couchsurfing to stay with someone for free! AirBnB is a very useful website or app if you look for more casual settings – still very professional, and people who rent out the rooms/apartments are people like you and me.
The prices in the list are an approximation; actual prices might vary based on when and how you book your rooms.
As it turned out there are some other conferences during that period in Bern and it's not very easy to find rooms anymore. Please find within the list below the hotels marked with whom we reserved some rooms for 2.-5- Sept. 2014 LibreOffice Conference visitors. You can access the rooms with the keyword 'LibreOffice'. Please note that most reservations excist only until the end of July or Mid-August.
B&B's usually don't reserve rooms, but most of them still had rooms available for the duration of the conference.
If you need any more help to find accommodation feel free to send me an email to gabriela.gnaegi@iwi.unibe.ch and I'll be happy to assist you in your search!
You may also browse the hotels using the map on OpenStreetMap.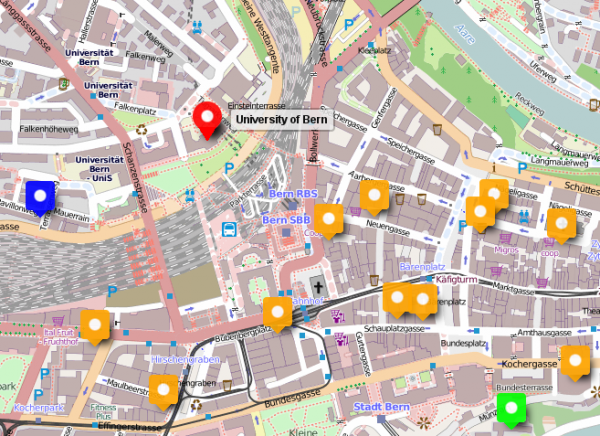 If you find an error in the table, please leave a comment. We appreciate your feedback!
Type
Stars / reserved rooms

Prices
from
(CHF)
Walking-
Distance
ca. Km
Name
Address
Telephone
Homepage
Comment
Appartment


60
5.1
Camping TCS Bern Eymatt

Wohlenstrasse 62c
3032 Hinterkappelen

+41 (0)31 901 10 07
Link
caravan or bungalow
B&B


95
0.4
Am Pavillon
Pavillonweg 1A
+41 (0)31 301 09 47
Link


B&B


130
2.1
Beauvilla Bern
Jungfraustrasse 28
+41 (0)31 352 47 06
Link


B&B


80
3.2
Romy's BnB
Bürglenstrasse 21
+41 (0)31 352 24 01
Link


B&B


65
1.8
Althaus Karin & André
Aegertenstrasse 11
+41 (0)31 352 75 19
Link
shared bathroom
B&B


90
0.9
Albergo seTU
Freiestrasse 37
+41 (0)79 773 83 13
Link


B&B


85
5.1
Amarletto
Flurweg 41
3072 Ostermundigen
+41 (0)76 546 41 32
Link
shared bathroom
B&B


85
3.7
im Klee
Melchenbühlweg 8
+41 (0)31 931 35 35
Link
shared bathroom
B&B


70
2.0
Ingrid Matter
Dufourstrasse 9
+41 (0)31 351 52 32




B&B


75
2.4
An Wiesenstrasse
Wiesenstrasse 34
+41 (0)31 331 50 71




B&B


85
3.5
Casa Silvana
Buchserstrasse 18
+41 (0)31 351 43 65
Link
shared bathroom
B&B


120
1.5
gg27
Gerechtigkeitsgasse 27
+41 (0)796186337




B&Kitchen


60
1.6
im Stürlerhaus
Altenbergstrasse 60
+41 (0)78 896 73 10
Link


Herberge /
Hostel


45
1.3
Jugendherberge Bern
Weihergasse 4
+41 (0)31 326 11 11
Link
room with 4 beds
Herberge /
Hostel


37
1.0
Glocke
Rathhausgasse 75
+41 (0)31 311 37 71
Link
no breakfast
Herberge /
Hostel


110
1.9
Landhaus
Altenbergstrasse 4
+41 (0)31 348 03 05
Link


Pension


75
1.3
Marthahaus
Wyttenbachstrasse 22a
+41 (0)31 332 41 35
Link


Pension


50
1.9
Artistshouse
Luisenstrasse 20
+41 (0)31 352 40 86
Link



Pension
(only women)


77
0.9
Villa Maria
Kapellenstrasse 9
+41 (0)31 381 33 42
Link


Hotel
*
100
2.8
Ibis Budget Bern Expo
Am Guisanplatz 4
+41 (0)31 335 12 12
Link


Hotel
**
100
0.7
Hotel National
Hirschengraben 24
+41 (0)31 381 19 88
Link


Hotel
**
120
1.7
Nydeck
Gerechtigkeitsgasse 1
+41 (0)31 311 86 86
Link


Hotel
**
120
2.8
Ibis Bern Expo
Am Guisanplatz 4
+41 (0)31 335 12 00
Link


Hotel
***
150
6.3
Best Western Hotel Grauholz
Wolfackerweg 15
3063 Ittigen

+41 (0)31 915 12 12
Link


Hotel
***
140
1.7
Waldhorn
Waldhöheweg 2
+41 (0)31 332 23 43
Link


Hotel
***
170
1.2
La Pergola
Belpstrasse 43
+41 (0)31 941 43 43
Link


Hotel
***
95
0.6
Sorell Arabelle
Mittelstrasse 6
+41 (0)31 301 03 05
Link


Hotel
***
305
1.1
Goldener Schlüssel
Rathausgasse 72
+41 (0)31 311 02 16
Link


Hotel
*** / xx double rooms / CHF 172/204

130
0.7
City Hotel Metropole
Zeughausgasse 28
+41 (0)31 329 94 94
Link


Hotel
***
165
0.7
Hotel City am Bahnhof
Bubenbergplatz 7
+41 (0)31 311 53 77
Link


Hotel
***
154
0.7
Kreuz
Zeughausgasse 41
+41 (0)31 329 95 95
Link


Hotel
***
127
2.2
Jardin
Militärstrasse 38
+41 (0)31 333 01 17
Link


Hotel
*** / 5 single rooms / CHF 180

125
0.6
Sorell Ador
Laupenstrasse 15
+41 (0)31 388 01 11
Link


Hotel
***
125
3.9
Bären Ostermundigen
Bernstrasse 25
3072 Ostermundigen
+41 (0)31 939 10 10
Link


Hotel
***
155
2.0
Alpenblick
Kasernenstrasse 29
+41 (0)31 335 66 66
Link


Hotel
***
140
1.4
Astoria
Zieglerstrasse 66
+41 (0)31 378 66 66
Link


Hotel
****
205
5.5
Holiday Inn Bern Westside
Riedbachstrasse 96
+41 (0)31 985 24 00
Link


Hotel
**** / 3 single/double rooms / CHF255 / 295

155
0.8
Best Western Bern
Zeughausgasse 9
+41 (0)31 329 22 22
Link


Hotel
**** / 4 single/double rooms / CHF 200 / 280

200
1.6
Belle Epoque Boutique
Gerechtigkeitsgasse 18
+41 (0)31 311 43 36
Link


Hotel
**** / 10 single/double rooms /CHF 295

210
2.1
Ambassador
Seftigenstrasse 99
+41 (0)31 370 99 99
Link


Hotel
**** /5 single rooms / CHF 195.--

225
0.9
Best Western Hotel Bristol
Schauplatzgasse 10
+41 (0)31 311 01 01
Link


Hotel
****
255
1.3
Innere Enge
Engestrasse 54
+41 (0)31 309 61 11
Link


Hotel
***
170
4.0
Hotel Sternen Köniz
Schwarzenburgstrasse 279
3098 Köniz
+41 (0)31 978 14 14
Link


Hotel
****
255
1.4
Allegro Superior
Kornhausstrasse 3
+41 (0)31 339 55 00
Link


Hotel
**** /10 single rooms/CHF 195.-

225
0.9
Best Western Bären
Schauplatzgasse 4
+41 (0)31 311 33 67
Link


Hotel
****
190
0.6
Savoy
Neuengasse 26
+41 (0)31 311 44 05
Link


Hotel
****
230
2.7
Novotel Bern Expo
Am Guisanplatz 2
+41 (0)31 339 09 09
Link
without breakfast
Hotel
****
185
2.6
Landgasthof Sternen Muri
Thunstrasse 80
3074 Muri
+41 (0)31 950 71 11
Link


Hotel
*****
319
0.5
Schweizerhof
Bahnhofplatz 11
+41 (0)31 326 80 80
Link


Hotel
*****
330
1.3
Bellevue Palace
Kochergasse 3-5
+41 (0)31 320 45 45
Link


If you don't find a nice place in the list above, you might also check the list on bern.com