LibreOffice Conference 2014 in Bern, Switzerland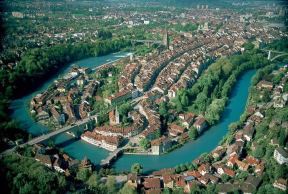 The LibreOffice Conference is the annual gathering of the worldwide LibreOffice Community and interested developers, marketers, adopters, end-users and supporters.
This year, the LibreOffice Conference will be held in Bern, Switzerland, on September 02 to 05, 2014, at the Bern University.
Our program reflects the broad engagement and diversity of the community: it includes talks and workshops from various areas of the project. We currently work on the program and put it online as soon as possible.
Feel free to contact the organization team by mail if you have any questions - we are happy to help!
Conference booklet
The conference booklet is available as a PDF and you'll also get a printed version in the goodie bag :)
You can find all relevant conference information in the booklet and we'll update the online version to cover some minor changes which didn't make it into the printed version.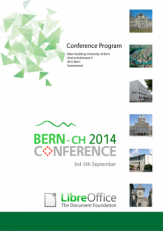 Conference communication channels
The official communication channel during the conference is our mailing list, conference@global.libreoffice.org. All participants will automatically be subscribed to that list, archives are available at http://listarchives.libreoffice.org/global/conference/
In case you want to manually subscribe yourself, please send an empty message to conference+subscribe@global.libreoffice.org and follow the instructions mailed back.
Please note that all messages sent to this list will be publicly archived and cannot be deleted, and that attachments and HTML will be filtered out/stripped.
To reach the conference organizers in private, please write to conference@libreoffice.org (i.e. leaving out the "global")
During the conference, organizers and participants can chat directly in the channel #libocon at Freenode.
Direct link for IRC clients: irc://chat.freenode.net/#libocon
Web chat: http://webchat.freenode.net?channels=%23libocon&uio=d4